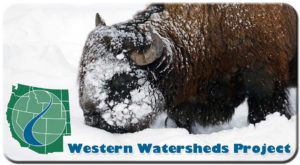 Bison in the snow at Yellowstone National Park. NPS/Jacob Frank photo (cropped)
January 13, 2022
For the second time, Western Watersheds Project, Buffalo Field Campaign and Friends of Animals have prevailed in court on behalf of the iconic Yellowstone bison!
Yesterday, the D.C. District Court ruled that the U.S. Fish and Wildlife Service once again violated the law when it dismissed evidence that Yellowstone bison may warrant protection under the Endangered Species Act, requiring the agency to take another look at our groups' petition.
The wild bison of the Yellowstone ecosystem are the world's most important bison population. They are the last continuously wild, migratory bison to exist since prehistoric times on their native range. They are magnificent and deserve to be fully protected by federal law rather than the annual slaughter that occurs at the behest of the livestock industry and with the support of Montana's Fish, Wildlife, and Parks.
U.S. Fish and Wildlife Service continues to ignore scientific evidence that there are two separate and genetically distinct herds of bison—the Central Interior herd and Northern Herd—in Yellowstone National Park. The current Interagency plan treats bison as a single herd, failing to provide safeguards to maintain both herds as distinct and isolated units. The Central Interior herd may already be too small to maintain its viability from a genetic standpoint. The Fish and Wildlife Service needs to act now to reverse decades of aggressive government killing and harassment.
So today we celebrate, and tomorrow we fight again to ensure our national mammal gets the protection it deserves!