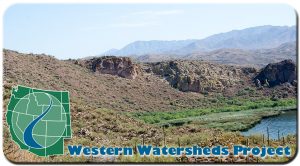 The Forest Service is asking for your input on two long-overdue changes to the management plans for the Gila National Forest in New Mexico and the Tonto National Forest in Arizona. Both forests are hosting public meetings in the coming weeks.
In the Gila National Forest in southwestern New Mexico, 2.6 million acres (almost 80 percent of the forest) is dedicated to livestock grazing by nearly 15,000 cows and there are no proposed changes to the management plan that would prioritize protection of the Mexican gray wolf, including limiting livestock impacts in their habitat.
The Tonto National Forest in central Arizona has allocated almost all of the nearly 3 million acres of forest to livestock grazing for over 25,000 cows and just 85 permit holders, but nothing in the proposed plan prioritizes the imperiled wildlife, such as the Sonoran desert tortoise, from the impacts of widespread livestock uses.
From our initial review of these proposed plans, there are very few requirements on the livestock industry that reduce harm to wildlife and at this point, we have many questions for the Forest Service in both states – how do their proposed plans prioritize protection of wildlife and watersheds over the interests of the livestock industry? How do the proposed plans restore habitat and protect clean water for future generations? What are ranchers required to do to protect wildlife?
The meeting schedules are below, with links to additional information. We are working hard to make sure there will be other wildlife advocates at these meetings who can help you talk to the Forest Service and ask they do more for wolves, tortoises, and wild places.
PUBLIC MEETING SCHEDULES 2020
For the Gila National Forest (New Mexico): 
Glenwood: Saturday, Jan. 22, 5:30 to 8:30 p.m., Glenwood Community Center, 14 Menges Ln, Glenwood, NM 88039
Reserve: Thursday, Jan. 23, 5:30 to 8:30 p.m., Catron County Fairgrounds Building
Mimbres Valley: Friday, Jan. 24, 9:30 a.m. to 12:30 p.m.
Truth or Consequences: Friday, Jan. 24, 5:30 p.m. at the Albert Lyon Event Center, 2953 S. Broadway St., Truth or Consequences, NM 87901
Silver City: Monday, Jan. 27, 5:30 to 8:30 p.m., Grant County Veterans Memorial Business and Conference Center, 3031 US-180, Silver City, NM 88061
Las Cruces: Tuesday, Jan. 28, 5:30 p.m., New Mexico Farm and Ranch Museum, Las Cruces, NM 88011
For the Tonto National Forest (Arizona): 
Tonto Basin: Wednesday, Jan. 22, 11 a.m. to 2 p.m., Tonto Basin Ranger District Office,  28097 AZ-188, Roosevelt, AZ 85545
Payson: Wednesday, Jan. 22, 5 to 7 p.m., Julia Randall Elementary School, 600 S. Green Valley Pkwy., Payson, AZ 85541
Superior: Thursday, Jan. 23, 5 to 7 p.m., Superior Junior/Senior High School, 1500 Panther Dr., Superior, AZ 85173
Cave Creek: Wednesday, Feb. 5, 5 to 7 p.m., Desert Foothills Library, 38443 N. Schoolhouse Rd., Cave Creek, AZ 85331
Globe: Thursday, Feb. 6, 5-7p.m., High Desert Middle School, 4000 High Desert Dr. Globe, AZ 85501
Please contact cyndi@westernwatersheds.org with any questions or for more information.