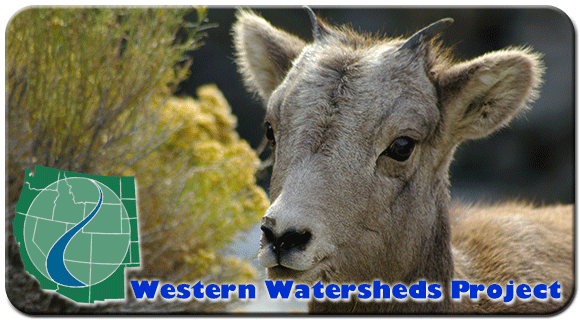 October 19, 2017
Online Messenger #360
Western Watersheds Project and WildEarth Guardians joined together in a lawsuit and preliminary injunction filed by Advocates for the West to stop fall and winter domestic sheep grazing on the Snakey Canyon and Kelly Canyon allotments on the Caribou-Targhee National Forest. The decision threatens to expose the South Beaverhead population of Rocky Mountain bighorn sheep to deadly disease carried by the domestic herds.
Domestic sheep grazing in bighorn habitat is always risky, but making this particular instance worse is that the sheep are managed by the failing U.S. Sheep Experiment Station and owned by the University of Idaho – neither of which should be putting Idaho's native wildlife at risk. The allotments overlap with the core home range of the South Beaverhead bighorn, and recent telemetry data shows a very high risk of contact between the animals.
The Forest Service is currently analyzing the environmental impacts of the Sheep Station's grazing operations, but it plans to go ahead with grazing on the Snakey Canyon and Kelly Canyon allotments before it completes its analysis. Risking the irretrievable loss of the bighorn population before the analysis is finished violates both federal law and forest policy. We're not willing to let that risk go unchallenged.
Read more about this case in this New York Times article. And many thanks to our attorneys and coplaintiffs for bringing this case with us!