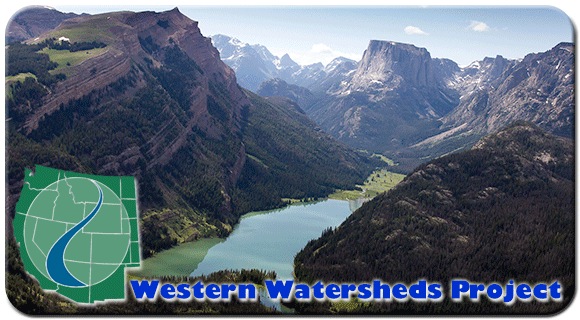 June 15, 2017
Online Messenger #352
Western Watersheds Project's supporters know that we work all over the west, but this week, we're highlighting a couple of recent actions we've taken on behalf of Wyoming's wildlife.
1. Alkali Creek Feedground
Last week, WWP and our allies have filed a lawsuit to halt Wyoming Game and Fish Department's use of the Bridger-Teton National Forest for unnatural winter feedgrounds to sustain elk populations. This practice– and in particular, the Alkali Creek feedground– put the Jackson elk herd at risk of contracting chronic wasting disease and spreading it throughout the Yellowstone ecosystem. Joined by Sierra Club Wyoming Chapter, Wyoming Wildlife Advocates and Gallatin Wildlife Association, and represented by the lawfirm of Meyer Glitzenstein & Eubanks, we expect to prevail against this unscientific use of our public lands. Maps and a photo of the feedground are online here.
2. Petition to ban deadly poisons
Following on the heels of our success halting the use of deadly M-44s in Idaho, yesterday WWP and our allies have filed a formal petition to ban the wildlife-killing devices in Wyoming. Joined by a range of animal welfare and conservation groups from across the country, we're asking for an immediate cessation to the use of these 'cyanide bombs' that indiscriminately kill non-target wildlife and pose a potentially lethal health risk to humans and companion animals on public lands where they are deployed. Learn more about these poisons and how you can support legislative and administrative efforts to end their use here.
3. And… not actually news about Wyoming!
We're hiring an Idaho Director! Long-time WWPer Ken Cole is leaving us to become the executive director of Buffalo Field Campaign. We wish him all the best, and hope that another excellent, organized, dedicated, and accomplished person will fill the position in his absence. Read more about the job description and application deadlines here. Please spread the word and encourage qualified applicants to get their resumes in ASAP.