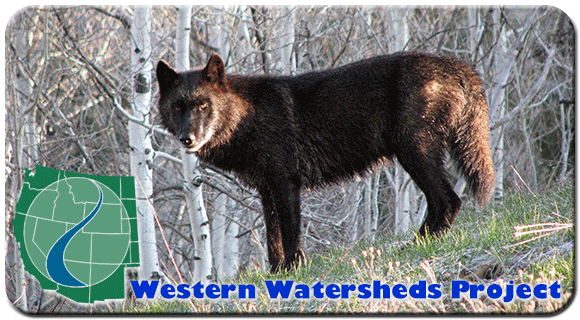 January 20, 2017
Online Messenger 344
We're happy to report a victory for wolves and wilderness! We received a court victory yesterday in our case challenging helicopter intrusions into the Frank Church-River of No Return Wilderness.
Last year, the Forest Service approved an application by the Idaho Department of Fish and Game (IDFG) to conduct approximately 120 helicopter landings in the wilderness to place radio collars on wild elk.
We and our co-plaintiffs, Wilderness Watch and Friends of the Clearwater, knew that collaring elk was a thinly-veiled effort to collect data to kill more wolves in the wilderness, something IDFG makes no secret that it wishes to do. IDFG's existing elk and predator management plans call for exterminating 60% of the wolf population in the heart of the River of No Return to provide more elk for hunters and commercial outfitters in an area that receives some of the lightest hunting use in the state.
To make matters worse, after we filed suit, IDFG rushed to complete the landings prior to the court hearing the matter; and in its rush, claimed that it "accidentally" collared four wolves in the process.
The court ruled that the Forest Service violated the Wilderness Act and conducted insufficient environmental review in authorizing these unprecedented helicopter intrusions in wilderness.
As a result, the court ruled, the Forest Service and IDFG are prohibited from using any data obtained from the illegally installed elk and wolf collars in future project proposals, IDFG must destroy the data received from the illegal collars, and the Forest Service must delay implementation of any future helicopter projects in the wilderness for 90 days to allow time for legal challenges.
At 2.4 million acres, the River of No Return is the largest contiguous unit of the National Wilderness Preservation System in the Lower 48. It hosts abundant wildlife including elk, mountain goats, bighorn sheep, wolves, cougars, and wolverines. It is one of the few public-land wilderness areas of sufficient size to allow natural wildlife interactions to play out without human interference, and for this reason was one of the original wolf reintroduction sites in the Northern Rockies.
We are grateful to Earthjustice for representing us in this case!