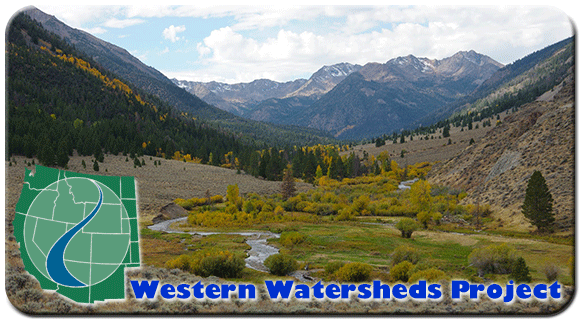 October 12, 2016
Online Messenger #340
Western Watersheds Project and our attorneys at Advocates for the West are swinging a one-two punch by taking coordinated new legal actions targeting abusive livestock grazing on the spectacular public lands in the Sawtooth National Recreation Area of Idaho.
The first action was late September's filing of a 60-day Notice of Intent to Suefor violations of the Endangered Species Act within the Upper and Lower East Fork grazing allotments of the Sawtooth National Forest. Repeated grazing violations and failure to comply with monitoring requirements mean that the Forest must re-consult with the U.S. Fish and Wildlife Service over the impacts of livestock grazing operations to spring and summer Chinook, Snake River steelhead, and Columbia River bull trout.
The second action, filed today in federal court, is a lawsuit challenging the failed management of the same two allotments as the notice letter. Both the Upper and Lower East Fork allotments have been damaged by years of abusive livestock management, but despite chronic trespass and overuse, the Forest Service has continued the excessive grazing. This harms the sensitive spawning habitats of the federally-listed fish species, and westslope cutthroat trout, in addition to the upland habitats of sage-grouse, bighorn sheep, wolves, Canada lynx, mountain goats, wolverine, fisher, and goshawks.
These allotments merit increased stewardship not just because of the wildlife, however. The allotments are within the Sawtooth National Recreation Area and partially within the newly designated White Clouds Wilderness. The hikers, backpackers, and others who enjoy the scenic alpine landscapes of these allotments shouldn't have to recreate in the midst of livestock-inflicted damage to vegetation and soils. See WWP's photos of the Upper East Fork allotment taken just this month, online here.
These new filings reflect our ongoing commitment to protecting special landscapes and sensitive habitats found on America's precious public lands. Support our work by sharing this email, following us on Facebook or Twitter, or by donating today.