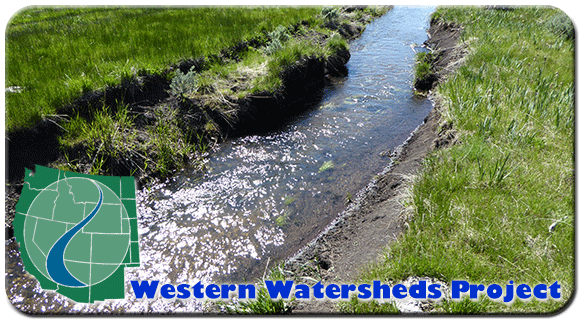 September 14, 2016
Online Messenger #338
Western Watersheds Project works diligently to protect sensitive species and their habitats from the deleterious impacts of livestock grazing. In summer 2016, we made some nice headway on that goal in the Humboldt-Toiyabe National Forest of Nevada.
Here's what happened: On June 7, 2016, WWP sent a notice of intent to sue the Humboldt-Toiyabe National Forest for its failure to consult with the Fish and Wildlife Service over impacts to bull trout and Lahontan cutthroat trout from grazing that the Forest Service authorized on ten allotments on the Jarbidge Ranger District. Under the Endangered Species Act, federal agencies must consult with FWS over any activity that may affect a listed species. Both bull trout and Lahontan cutthroat trout are threatened.
Our letter explained that the Forest Service had never consulted with the FWS over the impact of grazing to bull trout critical habitat on these allotments, and that there was no valid consultation for Lahontan cutthroat trout and bull trout because the only other biological opinion ever issued was for the Jarbidge Rangeland Program, and the record of decision for that was withdrawn in 2010.
Our NOI told the Forest Service that in order to avoid litigation it had to cease authorizing grazing on the allotments until it had completed consultation.
In August, the Forest Service responded to WWP that it will initiate consultation with the Fish and Wildlife for all ten allotments, which it expects to complete before grazing in 2017.
In the meantime, it restricted grazing in areas occupied by bull trout and Lahontan cutthroat trout! This meant that for 2016, it prohibited turn out in one allotment, and required livestock to be removed mid-season from four allotments. In two other allotments, riders were required to keep livestock out of streams where these fish or their habitat are present. These changes would not have happened without WWP watchdogging the habitats of these species! 
It's an important win because the near-term restrictions will afford the fish a reprieve from grazing impacts for the rest of this year, and the new consultation is likely to impose even more stringent protections for the species going forward. Because many of these areas are also important seasonal sage-grouse habitats, new protections will potentially improve conditions for the fish and the birds, and the other wildlife species that depend on these public lands.
It's one small win for WWP, but one big win this season for the fish in the Mary's and Jarbidge River watersheds. We're proud of this success, and we're grateful for your support that helped to make it happen.
Check out this slideshow of habitat conditions (and a few cool wildlife species!) on the allotments from May 2016.