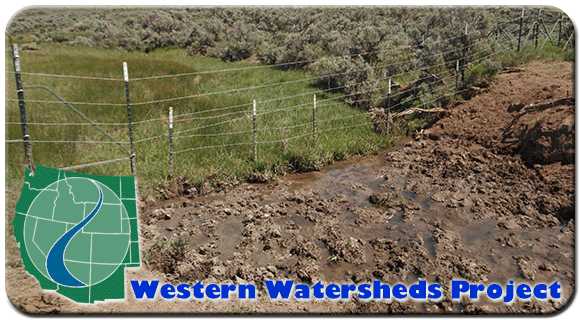 August 19, 2016
Online Messenger #337
In 2014, anti-WWP attorney Karen Budd Falen and a small cell of Wyoming ranchers attempted to undermine Western Watersheds Project and severely restrict our opportunities to do field work in the state. They brought a frivolous lawsuit that alleged trespass, sullied our reputation in the media, and hoped to force WWP to pay untold amounts of money in punitive damages for driving on roads in Wyoming. This was all retaliation for having revealed water pollution levels many times higher than the state allows.
Budd Falen and her clients failed. They were thwarted by the reality that WWP did not intentionally trespass, did no harm to private property, and was well within the presumed right-of-way or easements to access public lands. Because WWP's actions caused no damages to the plaintiffs, the court ruled last spring that no punitive damages would be awarded and the ranchers quickly looked to settle the case before racking up more legal bills.
To get this case off our docket, WWP has now signed a settlement agreement with the ranchers admitting minor, incidental, and inadvertent trespass on roads where ownership boundaries were unclear. WWP didn't pay a dime to the plaintiffs nor did we disclose sensitive financial data. Ultimately, the ranchers got nothing more than an agreement that WWP won't access public lands through restricted private acreage – the same rules that apply to every other person driving in the West.
WWP has known all along that this lawsuit wasn't about any real harm done, but just an attempt to silence our successes at demonstrating the impacts of private livestock on public lands. Karen Budd-Falen very nearly admitted that this was the true intention when she said, in an interview last year with Livestock Times, that the lawsuit was "one of the funniest things she was doing" and admitted that accessing WWP's financial data was one of the goals of seeking punitive damages.
We don't think it is funny. We think it was a blatant attempt to suppress speech and transparency about matters of public safety and environmental stewardship, but WWP will not be silent when it comes to the impacts of livestock on public lands and waterways. 
Many thanks due to our stellar legal team who spent countless hours fighting back against this attack on our organization. Special thanks due to WWP's Wyoming Director Jonathan Ratner, who was targeted personally and professionally, and to former Executive Director Travis Bruner who never balked in defending our work.
And finally, thanks to all the members and allies who encouraged us to "keep on keepin' on" along the way. Your support has helped buoy our spirits and continue the fight against these distorted legal claims.