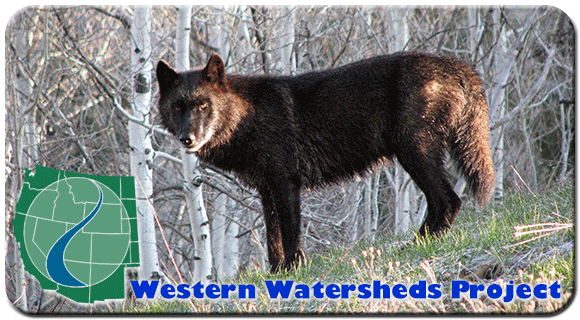 June 1, 2016
Online Messenger #333
Today, Western Watersheds Project and four allies filed a lawsuit in federal court challenging the killing of gray wolves by the U.S. Department of Agriculture's Wildlife Services in Idaho. The agency killed at least 72 wolves in Idaho last year using methods including foothold traps, wire snares that strangle wolves, and aerial gunning from helicopters. The agency used planes or helicopters to run wolves to exhaustion before shooting them from the air, often leaving them wounded to die slow, painful deaths.
Today's lawsuit asserts that the agency's environmental analysis from 2011 is outdated due to changing circumstances, including the permitting of recreational hunting and trapping that leads to the death of hundreds of wolves in Idaho each year. Most of Wildlife Service's wolf-killing is done at the behest of the livestock industry without any requirements for the livestock owners to take common sense measures to protect their animals.
For example, in July 2015, five wolves from the Red Warrior pack were killed outside of Hailey, Idaho for allegedly attacking sheep and cows. Wildlife watchers had viewed the same pack earlier in the year in the Warm Springs area. Documents indicate that Wildlife Service's has even attempted to kill wolves in the newly-designated Boulder-White Clouds Wildernesses.
Killing these iconic animals is senseless, cruel, and impoverishes our wild country. Killing wolves for private livestock interests is wrong, especially on public lands, where wildlife deserves to come first. In addition, new science shows that such "control" does not reduce livestock conflicts long-term, making these actions that much more egregious.
The groups — Western Watersheds Project, the Center for Biological Diversity, Friends of the Clearwater, WildEarth Guardians and Predator Defense —are being represented in the case by Advocates for the West and Western Watersheds Project's attorneys.
The complaint is available online here.