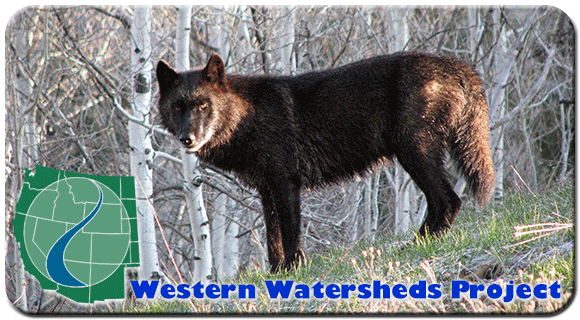 August 5, 2015
Online Messenger #317
For the second winter in a row, Idaho Department of Fish and Game (IDFG) has informed the U.S. Forest Service that it "does not intend to conduct any wolf control actions in the Frank Church Wilderness during the winter of 2015-2016 based on present circumstances."
IDFG abandoned it's plan to kill wolves in the Frank Church River of No Return Wilderness in the winter of 2014-2015 also. This came in response to the lawsuit brought last winter by Earthjustice and attorney Tim Preso on behalf of Western Watersheds Project, WWP Board member Ralph Maughan,Defenders of Wildlife, Wilderness Watch and the Center for Biological Diversity.
Last year, in a sworn statement to the Ninth Circuit Court of Appeals, the IDFG said that the agency would not conduct any control activities for wolves before November 1, 2015. The Forest Service provided a statement vowing to notify plaintiffs of any plans by August 5, 2015. This means that the integrity of the Frank Church River of No Return Wilderness won't be violated by state's hunting and trapping of these top predators in the coming year.
The hired killing of wolves is inconsistent with the letter and spirit of the Wilderness Act, and WWP and our allies will continue to pressure the National Forest Service to permanently stop facilitating IDFG's slaughtering scheme on protected public lands.This decision does not preclude government killing of wolves in the Frank Church-River of No Return Wilderness in subsequent years but you can be assured that Western Watersheds Project will remain vigilant of such activities in the years to come.
Thank you Tim and Earthjustice for continuing to win for the wolves!